Summer Children Camp
Office Hours 9:00 until 3:00 Monday to Friday
Activities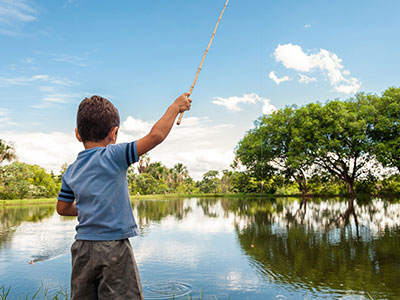 Here at Camp Andrew, Inc, we not only teach the word of God, but we also want our youths to enjoy the outdoors by offering a range of fun activities to build their social and physical skills, including the following:
Fishing
Fishing is a great way to enjoy what nature had to offer. We offer a range of fishing activities that will teach our youths all they need to know about fishing. Our mentors will teach them how to rig a line, how to cast, baiting and of course how to catch some of our local fish such as Bluegill, Bass, Catfish and Trout. Learning to fish is not only fun but it also teaches children how to have patience, how to respect our wildlife and how to be respectful and to help others. Read More About Fishing >>
Canoeing
Who doesn't love to get out on the water on a beautiful day? We offer our youths canoeing activities for all levels. Our mentors will fully supervise to ensure your children are practicing safely on the water while having the time of their lives. Canoeing is a great lesson in teamwork, bonding, navigating, wind conditions and friendship. By working together and helping each other so much can be achieved. Read More About Canoeing >>
Creek Stomping
Creek stomping is an old camping tradition that we like to keep alive here at Camp Andrew, Inc. sometimes is the simple type of play in the outdoors that really lets children connect with the environment and it also allows them to explore and learn. Creek stomping is simply allowing the children to have fun in the creek stomping through the shallow water, trying to catch frogs, and looking at all the different types of rocks. Read More About Creek Stomping >>
Arts & Crafts
Letting children express their creative side is extremely rewarding. They are to let their inner thoughts and feelings out by making, building, drawing, and painting whatever they like. Arts and crafts offer our children free time to create and be creative using a wide range of mediums and accessories. They will fun, grow and take home their art to share with the whole family! Read More About Arts & Crafts >>
Rope Course
Using our bodies is so important and when its in the beautiful outdoors of Mt Airy, NC, you can't beat it! We offer a rope course for the youths and children to tackle. It gets them using their bodies but also using their brains and developing skills as well as fitness. We aim to promote healthy living and getting out their and being physical every day and this is a great way to entice the children to do just that! Read More About Rope Course >>
Archery
At Camp Andrew, we offer our youths and children a range of archery activities to suit all levels from beginners to the more experienced archers. Our mentors are experienced and will ensure that all the children are fully supervised and taught all the correct safety precautions. They will be taught shooting technique, mental focus, preparation of goals and range safety. Most importantly they will be learning new skills or improving and developing them further, all while having fun! Read More About Archery >>
Bible Time
What we aim for is to teach our youths and children the word of God and through his teachings we want to encourage them to build a string relationship with him. We want them to let God into their hearts and follow in his word. What we offer in bible time is a range of fun activities to achieve a closeness with God through games and studying. By teaching our youth the word of the Bible we will be enriching their connection to God, to each other and of course to themselves! Read More About Bible Time >>
If you would like your children to come to a Summer Camp that has all the traditional activities but will also teach them to be close to God, then please don't hesitate to contact us here at Camp Andrew, Inc, on 276-608-5704 today!
We Provide Services to the Following Cities, Towns and Surrounding Regions of NC, TN, and VA:
Our Location
Directions to Camp